Finally! After many years with a cheapo basic metal frame and bed-in-a-bag set, I picked up the perfect bedset for us. Once we moved the bed to make way for the delivery, I had to sweep up 3 vacuum-fulls of cat hair and scrub up a few hairball spots. But no more under-the-bed-hiding for the girls anymore!
The new bedset has a solid wood frame with storage, and a bookshelf headboard. We were able to fit everything from our dresser and nightstands into the bed storage. And getting rid of those items really opened up a lot of room in the bedroom and let me spread out my sewing area a bit.
I also dished out a few bucks for a new comforter set, and let me tell you, it's worth the extra cost. The sheets, blanket, and comforter are sooooo much comfier than the old set! The room now feels like a bedroom for an adult rather than a college dorm room.
The comforter set came with a bedskirt, which we obviously don't need with this frame, so I cut up a piece of it and made 2 additional matching pillows:
I also whipped up a set of candle to put on the headboard. Simply getting a glass jar, inserting a votive in its own jar, and surrounding with shells.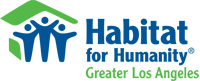 And since we no longer needed the extra furniture, rather than hanging on to them for no good reason like packrats, we donated them to
Habitat for Humanity of Greater LA
. I set up an appointment for Saturday afternoon. The guys came right on time, carried the furniture out themselves, and took off,
all for the low donation fee of $5 as a fuel surcharge
. Hopefully, our furniture will serve many more happy years with a new family.